Upholstery Fabric Materials for Sewing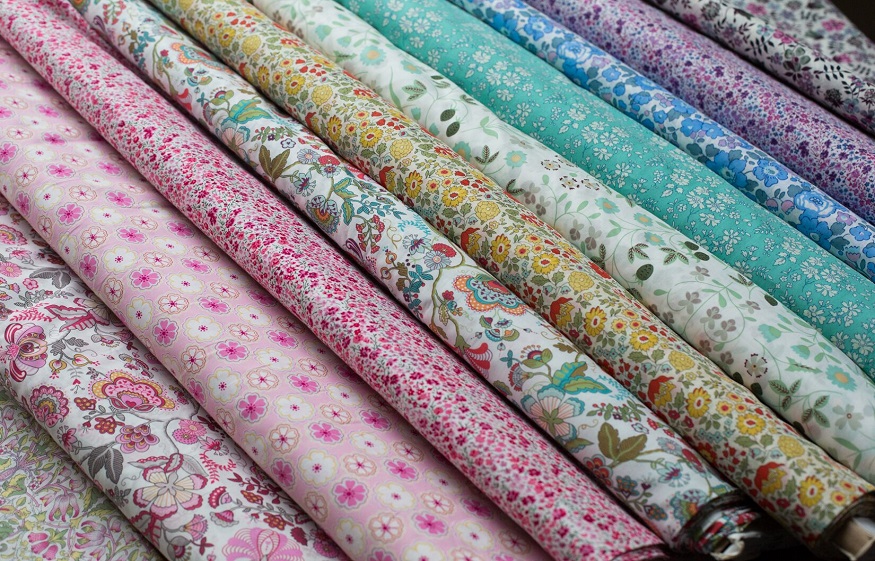 You've definitely been in this situation: you're perusing the fabric store and fall in love with one particular fabric, only to discover that it's classified as "upholstery and furnishing fabric." You can't help but wonder if upholstery and furnishing fabric can be used to sew clothes.
Upholstery materials can be used to construct clothing that require structured, mid- to heavy-weight fabrics. Upholstery and furnishing fabrics, in particular, can be a fantastic choice for coats and jackets since they often contain stain-resistant characteristics that are desirable in outerwear. Upholstery textiles often have larger-scale prints than garment-weight fabrics, which might be useful if you want to make a more fashionable outfit with a striking print.
What Is Upholstery Fabric?
Upholstery and furnishing fabric, as the name implies, is fabric made for use in furniture like couches and chairs. Upholstery and furnishing fabric is usually a mid- to heavy-weight fabric that is designed to be durable because furniture is typically subjected to extensive use. This durability can be achieved in a variety of ways, including adding a backing to the fabric to help prevent stretching, or treating the fabric's exterior surface to make it waterproof or stain resistant.
Fabric for upholstery can be constructed of a variety of fibers, including cotton, wool, linen, silk, polyester, rayon, nylon, and other synthetics. Couches, for example, are typically upholstered in cotton canvas or duck, wool tweed and boucle, linen, and velvet, among other natural fibers. Because of their water resistance and lower cost, synthetic fabrics like faux leather and faux suede are frequently used in couches and outdoor furniture.
What Is the Difference Between Upholstery Fabric and Garment-Weight Fabric?
Because there is such a vast variety of upholstery textiles, it's difficult to generalize, but upholstery fabric differs from garment-weight fabric in the following ways:
Upholstery fabric is often water resistant, stain resistant, or meant to be heavy duty in order to withstand a lot of use.
Upholstery and furnishing fabric tends to be thicker than garment-weight fabric, and some types of upholstery fabric are stiffer than their garment-weight counterparts.
Upholstery and furnishing fabrics have larger-scale designs than garment-weight fabrics since they are created for the scale of furniture rather than the scale of a human body.
Upholstery and furnishing fabrics have larger-scale designs than garment-weight fabrics since they are created for the scale of furniture rather than the scale of a human body.
What Kinds Of Clothes Can You Make With Upholstery Fabrics?
Of course, there are exceptions to every rule, and fabric selection is mostly a question of personal preference, but in general, I recommend upholstery fabric for structured items like as coats and jackets, as well as tailored pants. Upholstery fabric should not be used in drapey items such as loose palazzo trousers, boxy dresses that skim over the contours, and shirts with a relaxed form. To get into further detail, see the suggestions below for how to use a few different types of upholstery textiles in various clothing.
Cotton twill, canvas, or duck are all options.
Printed cotton textiles with a tight weave, such as cotton twill, cotton canvas, or cotton duck, are typically used to cover cheerful, cottage-style couches. The variety of vibrant designs available can be very stunning! To take use of the stiffer hand of these fabrics, use them in pleated skirts.If you decide to use a large-scale printed cloth, consider pattern placement when cutting out your pieces.
Tweed, basket weave, and boucle are examples of textured fabrics.
Tweed, basketweave, and boucle textiles, for example, are commonly used to cover couches. In a traditional cut blazer or coat, these fabrics would look fantastic. Because these clothing are tailored tight to the body, you'll need to be aware of bulk when sewing because upholstery fabrics are often rather thick. Make sure you cut your seams to reduce as much bulk as possible. Learn more about fabrics here!
Faux suede and faux leather
Synthetic leather and suede are widely used to upholster lower-cost furniture, and many of them are designed to be very water- and stain-resistant. Ultrasuede, for example, is so tough that it's utilized in boat interiors! Faux leather and faux suede, with their water-resistant characteristics, would look excellent in structured jackets and coats.
What Is the Best Way to Sew Upholstery Fabric?
Upholstery fabric can be sewn in the same way as garment-weight fabric. When stitching upholstery fabric, however, there are a few things you should keep in mind:
Pre-wash a tiny sample of your cloth to examine how it responds to washing and whether or not it shrinks.If your fabric has a water-resistant surface treatment, you'll want to observe how it reacts to washing before you spend all of your time sewing it into a garment.
Upholstery materials are thicker and heavier than garment-weight fabrics, so you'll need a larger needle to stitch them together. Before you begin your project, make sure you test the needle on a scrap of fabric.
Don't forget to cut and grade your seam allowances – don't be tempted to skip this step! You can sometimes get away with not reducing your seam allowances when sewing with garment-weight fabric because the cloth is thin, but you can't do that with thicker upholstery-weight fabric.
Conclusion
Finally, don't be afraid to look through the home décor area of your favorite fabric store; there are many materials there that would make great clothing. Simply use the suggestions described above to select the appropriate outfit to make from the fabric. So go ahead and utilize that upholstery fabric in your next sewing project; just remember a few points.